Welcome!
I created the Speak Out, Girlfriend!™ System because I wanted to help women (and a few good men!) to overcome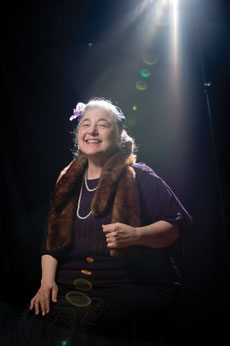 their fears and become more successful by confidently speaking out their brilliance to the world.
Now I'd like to share with you two other ways that I'm speaking out, as an actor and as a writer.
Actor
After many years of believing that only famous, gorgeous people get to be actors, I've pursued my dream of telling great stories on stage. Currently, I'm performing The Bessie Bluefeld Story, a one-woman, traveling show for the Jewish Museum of Maryland's Immigrant's Trunk Living History program.
Writer
When I first moved to Washington DC, I wanted to communicate with my granddaughters in ways that would
encourage their self esteem. I also wanted to share what I was learning about the importance of knowing why we cared about something we were going to have to do…like chores! So I wrote and produced a children's book and kit:
NoraLee's Adventures on Planet Ifwee &




the

GoldStar Magic

Family Pen-Pal Kit™